Barbara Lee (Dawson) Homrighaus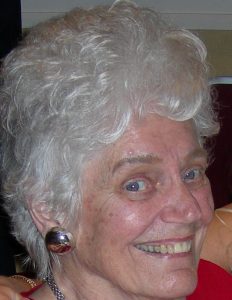 Barbara Lee (Dawson) Homrighaus of Texas City peacefully passed away on Monday, September 25. Barbara was born July 25, 1930 in Galveston, TX and was a lifelong resident of Galveston County, experiencing many of the various notable events over the years. She was selfless, self-reliant, patient, kind, protective, hardworking, fiercely loyal, strong in her faith in Christ plus a wonderful mother. Barbara was also a family connection point, always keeping in touch with various aunts, uncles, cousins, etc. and sharing family histories and status. She also loved her Bunco groups and treasured her time with them.
During her career, she and her husband, Bob, opened the first supermarkets in Galveston back in the 1960's. Later she worked for and retired from Gerland's Food Fair, after many years of service.
Barbara was preceded in death by her husband, Robert (Bob) Homrighaus, her parents, William and Isabel Dawson, her brother, William Browder, her daughter, Rhonda Homrighaus and her grandson, Zachary Homrighaus. She will be greatly missed by her surviving children – Judy Homrighaus, Ken & Barbara Homrighaus, Janice & John Pringle, Larry Homrighaus, Todd Homrighaus; grandchildren – Ariel, Missy & David, Lauren & Jordan, Erin & Chris, Samantha and Christian; plus five great grandchildren.
The family will hold a visitation on Sunday, October 1 from 5-8pm at Crowder Funeral Home in Dickinson, TX. Graveside services and burial will be at Mt Olivet Catholic Cemetery, Dickinson, TX the following day, Monday, October 2 at 2pm.