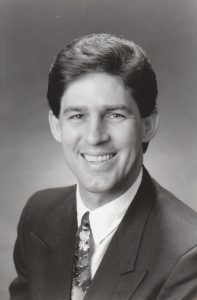 Baine Lee McClure, 62 ¾ , a resident of Friendswood, TX for 18 years, passed away September 17, 2022 with his family by his side. Baine was born November 11, 1959 to Paul & Jean McClure where they raised 4 boys who raised hell in Pasadena, TX.  To offset those early years, he managed to convince Amy, the love of his life, to marry him. They then became members of The Church of Jesus Christ of Latter-Day Saints, where they built their own eternal family.
Baine's career boasted 30 years in the Real Estate/Mortgage Business in the Greater Bay Area. His passion for serving this community coupled with his love of sports and growing family led to 25 years of whistle-blowing and shot-calling as a TASO referee. He called anything from City League to Junior College basketball games but prided himself most in teaching the fundamentals of the game with players on the court through his calls.
Nothing made him happier than spending quality and intentional time with his family. His personal favorites were coaching his kids on the ballfield, playing basketball in the driveway, and finally finding the sport he was able to beat them all at – His Treasured Frisbee-Golf.
Although Alzheimer's stole many of his mental and physical capabilities, his heart never forgot the depth of his love for "His Amy". This remained until his final breath and will continue for eternity.
He is preceded in death by his Son – Jonathan McClure, Father -Paul McClure, Brother – Brent McClure, Father-in-Law – Roy High, and Mother-in-Law – Lillian High.
Baine leaves behind his beloved wife of 36 years, Amy Sue McClure and their children – Ashlee & Tommy Rushing, Logan McClure, Callie & Kevin Blake, Abby McClure and Asa McClure. His Mother – Jean McClure, and Brothers – Paul & Paula McClure and Blair & Jeanette McClure. Lastly, he leaves his favorite title and calling of being Papa to Jet McClure, Scarlett Canada, Conner Blake, and Mallory Kellogg.
Visitation will be held from 12 p.m. to 2 p.m. on Monday, September 26, 2022 with a service to begin at 2 p.m. at The Church of Jesus Christ of Latter-Day Saints, 505 Deseret Dr. Friendswood, TX 77546. Burial to follow at Forest Park East Cemetery in Webster, TX.
For those who can not attend please click the link below
Topic: Funeral Services-  Baine McClure
Date: Sept 26th 2022
Time: 2:00PM
Join Zoom Meeting
Meeting ID: 931 5201 6873
Passcode: 1111
One tap mobile
+13462487799,,93152016873#,,,,*1111# US (Houston)
+17193594580,,93152016873#,,,,*1111# US