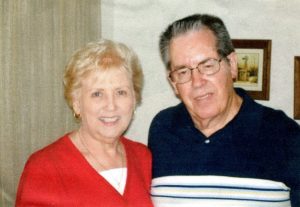 Audrey L. Bain, 74, of Dickinson, Texas, passed away August 5, 2017, in Webster, Texas.  Audrey was born February 6, 1943, to Claude Jr. and Grace Loretta Hoke in Texas City, Texas.  She was a devoted wife, mother, grandmother, great-grandmother and friend who will be missed.  Audrey was preceded in death by her parents; beloved husband of 55 years Wayne Bain; sister Claudine Posey; sisters-in-law Jean Jordan and husband Max, and Peggy Young; brothers-in-law, Leroy Bain, Harvey Bain, and Grady Gary.
Audrey is survived by her daughter Terri McGee and husband Jon; son Clifford Bain and wife Kathy; sisters Loretta Grace Theriot and husband Norman and Sandra Lynn Joyce and husband Paul; brother Butch Hoke and wife Irene; sisters-in-law Wanda Gary and Roberta Miller; grandsons Calvin Bain and fiancé Bailey Steward and Brandon Bain and wife Amanda; and great-grandchildren Hayden Steward and Aubrey Bain.
A celebration of Audrey's life will be held 1:00 pm, Wednesday, August 9, 2017, at Crowder Funeral Home Chapel, Dickinson, Texas with graveside services at 3:00 pm, Forest Park East Cemetery, Webster, Texas.