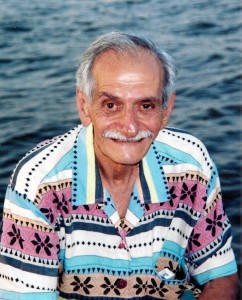 Anthony Dominic Macaluso, 80, of Pasadena, Texas passed away on Saturday, May 21, 2016.  He was born September 13, 1935 in Galveston, Texas to Dominic and Frances Macaluso.  Raised in Galveston, Texas, but lived most of his life in the Clear Lake, Texas area, he graduated from Kirwin High School in 1953, attended Texas A&M and was a member of the Corps Band.  Anthony also attended The University of Houston.  He worked as a Project Estimator in the Oil Refinery Industry.  Anthony was a hard worker, loved to travel, spend time fishing and being with family.
He is preceded in death by his parents; his two sisters and brothers-in-law; Jerry Crow and husband Jim and Jennie Crow and husband Layne.  He is survived by his daughters; Terri Macaluso Scott and husband Cary of Pasadena, California, and Paula Macaluso Holland and husband Ric of Pasadena, Texas; sons David Macaluso and wife Leah of Bayou Vista, Texas and Mark Macaluso of Santa Fe, Texas; ex-wife and mother of his children; Shirley Keleman and her husband Charlie; six grandchildren; Rick Holland and wife Kim, Steve Holland and wife Megan, Christa Reichardt and husband John, Josh Macaluso, Joel Macaluso and Andrea Scott; three great-grandchildren; Braxton Holland, Brynn Holland and Harper Holland and numerous cousins, nieces and nephews.
Anthony loved his family and had many friends. His family loved him very much and will miss him dearly.
A Graveside Service will be at 1:00pm on Wednesday, May 25, 2016 at Mt. Olivet Catholic Cemetery in Dickinson, Texas with Pastor Jon Redmond officiating. 
Arrangements are under the direction of the James Crowder Funeral Home in La Marque, Texas.