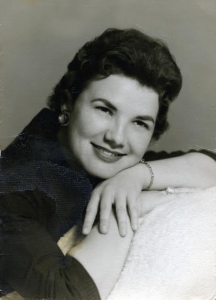 Annie Moore (Williams) Blackwell peacefully departed from her life on earth, Sunday, December 6th, 2015, surrounded by her loving family.
Annie was born to Annie Lou (Moore) and Henry Marcus Williams on August 11th, 1933, in Talledaga, Alabama. After graduation from Stephen F Austin Reagan High School, she attended Elliott Business School, College of the Mainland, and the University of Houston.
Annie was active in her children's school, serving as PTO President and as a long – term substitute teacher. She spent her professional career in the Real Estate field, including Stewart Title Company, as well as serving as an Executive Officer for the Gulf Coast Board of Realtors. In addition, Annie and Jerry owned and managed Blackwell Real Estate.
Annie was an outgoing and caring person, who won the hearts of many with her wit, charm, and contagious laugh. She loved her family, friends, and relationships, unconditionally. Annie held a deep bond with her brothers and sisters, and had a special place in her heart for all of her nieces, nephews, and their children. She was a loving mother to her four children, a beloved Grandmother (a.k.a. MeeMaw) of 6, Great Grandmother of 4, and a favorite Aunt to many. Annie departs this earth leaving a legacy of instilling love for family and friends, as well as Christian values within her children and grandchildren, and all those who knew her. Her reach was far and her light shined bright.
Ann was preceded in death by her Step-son, Richard J. Blackwell, Sisters: Mary Ruth Ellis (Rusty), Jerry Colwell (Bill), and Opal Olszewski
Brothers: H.T. (Jack) Williams (Joyce) and Emmett (E.R) Ralph (Billie) Williams. Annie is survived by her devoted husband of 57 years, Jerry Louis Blackwell.
Her brother, James W. (Jimmy) Williams. Children: Gene and Denise Blackwell, Tom Blackwell, Ruth Ann and Shane Patrick, Grandchildren; James Steven Blackwell, Arienne Long, Afton Blackwell, Ryan Blackwell, Erin Blackwell, and Rylee Annabeth Patrick. Great Grandchildren Jacob, Amena, Avery, and Spencer.
The family will receive friends at the Webster Crowder Funeral Home Thursday, December 10, from 6:00-9:00 p.m. Funeral services will be held Friday, December 11, at 11:00 a.m., at the Webster Crowder Funeral Home. Burial at Forest Park East.