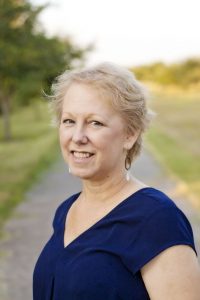 Anne Marie Herrmann Bernay, 56, passed away on June 6, 2021 in Houston, Texas after surviving cancer for nine years. Her final days were spent surrounded by her loving husband, children, family, and friends, celebrating her son's recent high school graduation. She was born on February 20, 1965 in Detroit, Michigan to Paul Phillip and Edythe Anne (Bosak) Herrmann. Anne is survived by her husband Steven Blase Bernay, daughter Clare Justine Bernay, and son Peter Jacob Bernay; her father Paul Phillip Herrmann, Sr; sisters, Karen Lynn (Herrmann) Shipley and Nancy Beth Herrmann Mueller (Scott); brother, Paul Phillip Herrmann Jr. (Amy); nephews, Andrew Broom, Michael Bernay, Justin Gibbs, Mitchell Horstman, Alec Horstman, Logan Wyatt Mueller; nieces, Ruth (Bernay) Lim and Sophia Avery Mueller; and many extended family members and friends.
Anne grew up in South Lyon, Michigan and was Valedictorian of South Lyon High School Class of 1983.  She earned a BSE in Chemical Engineering from University of Michigan in 1987.  After graduation Anne held numerous roles in the oil and gas industry including roles at Exxon -Baytown, TX refinery; Senior Manager at Arthur D. Little, and Consultant at PRTM Management Consultants. She left the consulting business to begin her most loved role as mother to Clare and Peter while she pursued her passion and talents for nonprofit work.
Anne's passion was supporting and advocating educational, special needs, religious, and community programs and services. Anne and Steve joined Team in Training to fundraise for the Leukemia and Lymphoma Foundation. She completed three marathons in San Diego, Alaska and Houston in support of the foundation. Anne became a Big Brother Big Sister and worked in the administration of the organization.
Anne's greatest advocacy endeavor began when she started volunteering at The Rise School of Houston, supporting individuals with intellectual and developmental disabilities. As her knowledge and passion expanded her roles and organizations increased. Anne joined the Down Syndrome Association of Houston (DSAH) where she helped organized the "Buddy Walk" fundraiser and designed and facilitated parent training programs. She was recognized with "Buddy of the Year" award. Through her work with the DSAH, Anne recognized the need for a local Down Syndrome organization in Clear Lake which led to her co-founding and leading the Greater Clear Lake Families Exploring Down Syndrome nonprofit. She organized fundraisers such as the "StepUp Walk" and received recognition with the "At the Helm Award." Anne's passion for advocacy led her to further broaden her scope by founding the Special Education PTA for Clear Creek ISD (SEPTA) which she held various leadership roles and was awarded the SEPTA Star Award.
Her drive and talent enabled her to embrace many organizations important to her and her family. Her volunteer work included passing on her love of scouting to her children by serving as a Girl Scout Troop leader for 10 years and coordinating the flag fundraising program for Boy Scout Troop 870.  She spent several years as a Clear Lake High School Band Booster, leading and organizing the "Bites at the Lake" fundraiser. She devoted countless hours in supporting St. Bernadette Catholic Church food pantry. Anne just recently began volunteering at the Houston Botanic Garden to enjoy her love of gardening.
Anne loved the outdoors, growing up camping every summer with her family. She carried this forward with her children, spending family vacations camping, hiking, kayaking, and canoeing. Just as she had done with her other passions, she recently immersed herself in birding and quickly became an expert birder. She would take her family on many birding adventures so she could add more "lifers" to her list. Her backyard bird feeders were a haven for all birds (and squirrels).  If indoors, Anne was usually reading, crafting, crocheting, sewing, or baking.  Her love of family enticed her to become a Certified Lineage Specialist, tracing the family tree back many generations.  She spent hours with her father and daughter getting licensed as an Amateur Ham Radio Operator and competing in ham radio contests. Anne had an endless excitement for exploring new places, hobbies, and adventures with her family and friends.
Visitation will be held on Thursday, June 10, 2021 at Crowder Funeral Home, 111 E. Medical Center Blvd, Webster, Texas from 6 pm – 8pm with a rosary at 6:30 pm. The funeral mass will be held on Friday at 11:00 am at St. Bernadette Catholic Church, 15500 El Camino Real, Houston, Texas 77062 followed by burial at Mount Olivet Catholic Cemetery, 7801 Gulf Freeway, Dickinson, Texas 77539. There will be a luncheon at St. Bernadette Catholic Church following the burial.
In lieu of flowers, those wishing to make a memorial donation in Anne's memory may do so to Armand Bayou Nature Preserve, 8500 Bay Area Blvd, Pasadena, Texas 77507. https://www.abnc.org/donate.