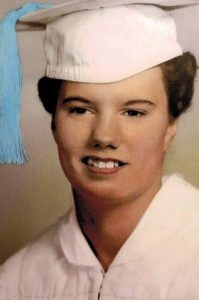 Annabelle Hernandez
July 18, 1937 – October 27, 2016
Christian, Wife, Mother, Grandma, and Granny
Annabelle was born 0n July 18th 1937 to Claire Elanore McDonald in Lincoln Park, NJ.   Annabelle graduated from Booten High School in Booten, NJ in 1955. Upon graduation from High School Annabelle entered the Women's Air Force and was stationed at Offutt Air Force Base in Omaha Nebraska where she received her nursing training.  In 1957 Annabelle Married Amos R. Davis in Omaha, Nebraska.  Annabelle was honorably discharged from the Air Force in 1957 and spent many years working in ICU at Gerald Champion Memorial Hospital in Alamogordo, NM.  Annabelle and Amos had three children:  Amos R. Davis, Jr., Frances R Wise, and Lawson E. Davis.  Annabelle married James Hernandez on February 14th Valentine's day in 1977
Annabelle was pre deceased by her mother Claire Elanore McDonald, Her step Mother Helen McDonald, her brothers, Jimmy McDonald, Raymond McDonald, and Walter McDonald. Sisters, Claire Todd, Nancy Beager, and Mary Lou McDonald.
Annabelle is survived by her loving Husband of 39 years James Hernandez, her three children, Amos R. Davis, Jr and his spouse John Rambo, Frances Wise and her Spouse Keith Plotner, Lawson E. Davis and his spouse Diana, her stepson Ricky Hernandez, her Sister Dotty Beasley and special Son in Law John Wise.
Annabelle is survived by her Grandchildren, Clarissa Ann McKee and her spouse James, John Amos Wise and his spouse Liz, Kyle Davis Wise, Madison DeeAnn Plotner, Elizabeth Price and her spouse Tracy, Matthew Halsell and his spouse Brandie, Christian Rambo, Branden Rambo and his spouse Cassie, and Zechariah John Rambo.
Annabelle is survived by her Great Grand Children, Calista Frances Batteron, Alexis Jean McKee, Peaton Dixe Wise, Payson LeeAnn Wise, Aiden Joel Wise, Elyse Mckenzie Wise, Daniel Alexander Wise, Wesley James Price, Lauren Elizabeth Price, Pierce Ryan Halsall, Emory Leigh Halsell, Lacey Kayla Price, Devon Bruce Owen, Parker Rene Rambo, Griffin Hayes Rambo, and Ruby Claire Rambo, and one Great Great Grandson Rhett Easton Turpin.
The Bible says this world is not our final home, and we are "strangers and pilgrims on the earth." Our true home is heaven and that is where God's path leads.  Annabelle is rejoicing in her savior's arms and the streets of gold that are promised to us as Christians.  We will forever love and miss you, but also know that we will be reunited with you in Heaven.
A celebration Of Annabelle's life will be at Noon Thursday November 10th, 2016 at Lighthouse Baptist Church in Dickinson, TX  with Pastor Charles Dill officiating .   Graveside service with full military honors will be held at 2:15 on Thursday in the National Cemetery in Houston, TX with long time family friend, Brother Lee Fuller Officiating. Services have been entrusted with the Crowder Funeral Home in League City, TX