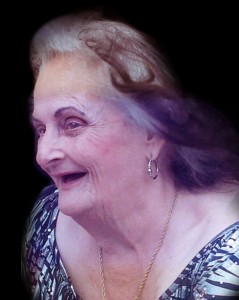 Annabelle Grover passed away on Monday, May 9, 2016.
Anna was born in Galveston, Texas. Her parents met while talking over the fence at the orphanage that was her mother's home, a love story that Anna enjoyed sharing with everyone. Family members were Anna's most treasured assets and she loved gathering with friends and neighbors to play cards, cook meals and tell stories. Her laugh was infectious and her smile loving and warm.
Anna was preceded in death by her mother and father, Clara Belle and William Shaw, her brothers John and Peter Shaw, her husband Russell Grover Sr and her son, Rusty. Anna is survived by her sister Ruby Bailey, sisters-in-law Lucy and Mary Shaw, brothers-in-law Wilfred and Richard Grover, and sisters-in-law Freda and Jeanie Grover. She is survived by her daughters Helen Bugo and Deborah Cranston, her son Rick Shaw and grandchildren Richard Shaw Jr, Elizabeth Ann Ladner, Billy Shaw, Robert Shaw, Daniel Bugo Jr, Roxann Grover O'Day, and Michael Ragan, as well as numerous nieces, nephews, great-grandchildren, great-great-grandchildren and countless friends and other extended family.
Anna so loved spending time outdoors gardening. Look for her presence among the flowers this spring and always.
A memorial service will be held at 10:00am on Saturday, May 21, 2016 at James Crowder Funeral Home, 401 Texas Ave, La Marque, TX 77568.
Contributions in lieu of flowers may be made to the Alzheimer's Association of Texas at www.alz.org/texas.