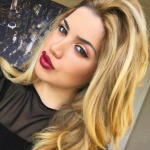 Angelica Chabeli Meljen, or as we all know her, Chabi, was taken away from us much too soon. Since the minute she was born she was a force to be reckoned with. She was twenty years old and was growing into the most beautiful and kind woman. She brightened everyone's day with her endless sarcasm and attitude, much like her great-aunt Celia.
Chabi first greeted the world on October 7, 1996, born to her loving parents, Marisel and Jorge, and big sister, Vivienne. She lived most of her life in Union City, New Jersey and moved to League City, Texas with her family in 2015.
Chabi attended the University of Houston at Clearlake and studied criminology and psychology with the goals of working in federal law enforcement. She was the fabulous "mother" of Mimi and George, her two rescue pups.
She was beyond excited to someday marry Alfredo Gutierrez, the love of her life, and have a school bus full of chubby babies. Chabi was a sweet daughter, always caring for and concerned about mom and dad's wellbeing. She will always live on in the hearts of those who love her.
"Banshini, I love you more." – Martini
The Family will receive friends on Sunday, April 30, 2017 at 1:00pm.  All of Chabi's friends and family are welcome with open arms to join us in our celebration of her life on Sunday, April 30, 2017 at 2:00pm at Crowder Funeral Home, 1645 East Main, League City, TX, 77573.