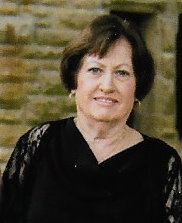 Alice Ann Robinson, 79, passed away on Monday, March 13, 2017 at her residence in Hitchcock, TX. She was born to Gertrude and George Simpson in Bivins, Texas on November 10, 1937.
Alice has been a resident of Hitchcock for over 65 years and a longtime member of the First United Methodist Church in Hitchcock.
She enjoyed playing cards, camping and exercise classes.
Alice is survived by her husband of 62 years Theodore "Mac" Robinson, two daughters Cynthia "Sis" Wise and husband Dennis and Tammy Robinson; son Gregory Mac Robinson; her brothers Billy Wayne Simpson and Dickey Simpson and wife Frances; four grandchildren: Gregory Mac "Little Mac" and Leila Robinson, Kimberly and Billy Ginn, Danielle Ewing and Travis and Katie Ewing; six great grandchildren: Cade Robinson, Kinley Robinson, Tristany Ewing, Jada Morgan, Colton Wagner and Will Ginn.
A visitation will be on Wednesday, March 15, 2017 from 5:00pm – 7:00pm at the James Crowder Funeral Home in La Marque. Funeral Service will be at 10:00am on Thursday, March 16, 2017 at the Funeral Home with Pastor Charles Robinson, Jr. officiating. Burial will follow at Galveston Memorial Park in Hitchcock, Texas.
In lieu of flowers memorials may be made to the American Cancer Society or Hospice Care Team.