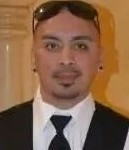 Alfredo Valentine Tovar, 34 of Houston, Texas passed away Sunday, September 21, 2014 in Houston, Texas. He was born December 23, 1979 to Alfredo Tovar and Natalie Garza Rodriguez in Houston, Texas. He was a lifelong resident of Houston. Alfredo worked as a Supervisor in the Oil & Gas Field.
He is preceded in death by his grandmother Mary Villasana and sister, Krystal Tovar.
He is survived by his father Alfredo Tovar; his mother Natalie Rodriguez and her husband Arturo Rodriguez; daughter Aaliyah Tovar; sister, Olga Pena; brother, Alex Tovar and wife Patricia his best friend and cousin, John Garza.
A Funeral Service will be held on Saturday, September 27, 2014 at 10:00am at the Sagemont Church in the Hughes Road Auditorium at 11323 Hughes Rd Houston, Texas 77089 with Bill Cole officiating.
In lieu of flowers memorial may be sent to Aaliyah Tovar.