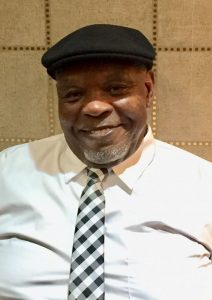 Albert Joe Evans, 65, of Pearland TX passed away March 02, 2018 in Lubbock, TX.  Mr. Evans was born December 5, 1952 in Slaton, TX. His love for sports started in Lubbock where he lettered in football and track at Dunbar High School, and was awarded a football scholarship to New Mexico State University.  Mr. Evans finished his college career at Langston University earning a Bachelor's degree in Education.  In 1986 he moved his family to Pearland where he has been a fixture at high school football, basketball, track and baseball games.  Albert retired from Daystar Residential Treatment Center in Manvel, TX where he worked as a Childcare Health Administrator for 25 years.  Mr. Evans was a loyal member of Crosspoint Church where he served as a greeter.
Mr. Evans is proceeded in death by his mother Gladys Henderson and step-father Fay Henderson Jr.  Albert leaves behind his wife of seven years Michelle Evans, six children; Shone Evans and his wife Sarah, Dwayne Evans and his wife Jennifer, Johnathon Strong, Jennifer Mosley and her husband Brandon, Anthony Evans and his wife Heather, and April Brown and her husband Reuben; siblings Michael Henderson, Linda Faye Hobdy and husband Charles, Cleopatra Bonner, Kenneth Henderson and wife Debra, and Alisa George and husband Eric; twelve grandchildren Shone Patrick Evans, Zachary Evans, Melanie Enochs, Ashlee Evans, Chloe Evans, Jessica Mosley, Brandon Mosley, Hannah Milburn, Elle Evans, Emma Evans, and Elias Evans; two great grandchildren Tristan Gause and Alexis Mclauchlan and a Host of other Family and Friends.
There will be a visitation from 5:00 p.m. to 8:00 p.m. Friday March 09, 2018 at Crowder Funeral Home in Pearland, TX.  Funeral Services will be at 11:00 a.m. Saturday March 10, 2018 at Crosspoint Church 1134 Old Alvin Road Pearland, TX 77581 with Pastor Warrick Baker of Crosspoint Church officiating. Burial will follow the service at Southpark Cemetery in Pearland, TX.  Pallbearers serving will be Kendrick Henderson, DaKarai Henderson, Chris Hobdy, Ethan George, AJ Curry and Donald Williams.  Dunbar High School Class of '71 will serve as Honorary Pallbearers.