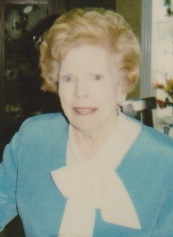 Adelin Worrill Hammack, 91 passed away on Dec. 23, 2014. Ms. Hammack was born on Nov. 1, 1923 in Cuthbert, GA to Judge Charles W. Worrill and Adelin Helms Worrill. Her father was a distinguished jurist and a member of the Georgia State Supreme Court. Her mother was a teacher and educator.
Ms. Hammack was educated at Brenau College in Gainesville, GA where she majored in Speech and Dramatic Arts. She was the lead in many plays. She also attended the University of Houston, Clear Lake Campus majoring in Psychology. She worked for the National Advisory Committee for Aeronautics (NACA), the predecessor of NASA and the Clear Creek School System in the Special Education area.
She was a member of the Houston Junior League, DAR, ARCS, Tri-Delta sorority, Pioneers Club for Missiles and Space Flight, Women of Rotary and St. John Episcopal Church as well as many civic organizations.
Ms. Hammack is survived by her sons, Charles and his wife, Jit and Patrick and his wife, Marlene; grandchildren, Christopher and Rachel.
Ms. Hammack's family will receive guests Monday, December, 29, 2014 from 6:00 PM to 7:00 PM followed by a Memorial Service at 7:00 PM at Crowder Funeral Home, Webster. In lieu of flower those wishing to make a memorial donation in Ms. Hammack's memory may do so to: The Space Center Houston's "Bring the Legacy Home", Space Shuttle Museum 1601 NASA Parkway, Houston, TX 77058.