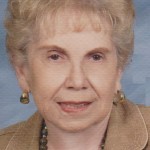 Adele O. McCoy passed away peacefully at her home on November 5, 2014. She was born Sept. 10, 1927 to Fred and Emma Oberndorfer. Adele is survived by her: loving husband, Lewis J. McCoy, sister, Emily MacDonald; brother, Fred Oberndorfer; brother-in-law, Raymond Watkins and several nieces, nephews, great nieces and great nephews.
Adele took an active part in civic activities and as a member of Clear Lake United Methodist for many years and was very active with the church women's activities. She was employed by Monsanto Chemical Co. for many years. In 1978, she became the personnel representative of the Employee Relations Dept. for Monsanto. She was named ABWA (American Business Women's Association) Woman of the Year of the Clear Lake Area Chapter.
On Friday, November 14, 2014 a Visitation will be held from 12:00 PM to 1:00 PM with a Funeral Service at 1:00 PM at Crowder Funeral Home, Webster, TX. Rev. Harold Travis of the Clear Lake United Methodist Church will officiate. Following the service friends are invited to a reception at the Clear Lake United Methodist Church, 16335 El Camino Real, Houston, TX. The family will join them after they have laid Adele to rest at the Forest Park Lawndale Cemetery, Houston, TX. Those wishing to make a memorial donation in lieu of flowers may do so to the Alzheimer's Association Houston & Southeast Texas Chapter, 6055 South Loop E, Houston, TX 77087 or the Clear Lake United Methodist Church.