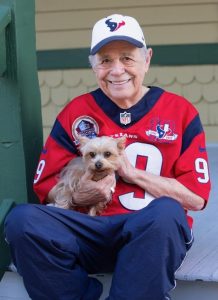 Aaron Harry Weiser, Jr., 80, of Texas City, Texas, passed away peacefully at home on October 21, 2020 in Texas City. Aaron was born to loving parents Aaron Harry Weiser, Sr. and Pearl La Fleur Weiser on September 6, 1940 in Galveston, Texas. Upon completion of high school, Aaron enlisted in the United States Air Force where he proudly served for four years. During his enlistment his job was to train the military working dogs. Following his discharge from the Air Force, Aaron began his career as a business owner by opening multiple Key Oil Company locations. In 1997, Aaron opened Bill's Wholesale Ice, a company that remains open to this day. Aaron was also a member of the Clear Lake Elks Lodge and remained so until his passing. Aaron is preceded in death by his parents, his loving wife Veronica Sue Weiser, sister Minette Weiser, and brothers Gerald and Melvin Weiser. He is survived by daughters Stephanie Lynn Sickmen and husband Walter, and Robin Yevette Holmes and husband Robert, son Aaron Harry "Trey" Weiser III, sisters Sophie Smith, Pamela Garcia and husband Frank, and Joyce Weiser-Hill and husband Neild, brother Lawrence Weiser and wife Lois, Sister-in law Thiry Weiser, grandchildren Brittany and Matthew Wehman, Logan Holmes and wife Megan, Corey Holmes and wife Cori, Kendall Holmes, and Summer Weiser, great-grandchildren Kai and Kace Holmes, and many nieces, nephews, and dear friends.
A visitation will be held on October 26, 2020 from 9:00 to 11:00 am at Crowder Funeral Home in Dickinson, Texas with a Rosary to follow. The funeral service for Aaron will begin at 12:00 pm at Crowder Funeral Home Parlor in Dickinson, Texas. Interment will follow at Mt. Olivet Catholic Cemetery in Dickinson, Texas.
The services will be officiated by Deacon Gerry Weiser and acting as pall bearers for the service are Logan Holmes, Corey Holmes, Kendall Holmes, Matthew Wehman, Robert Holmes, and Walter Sickmen.