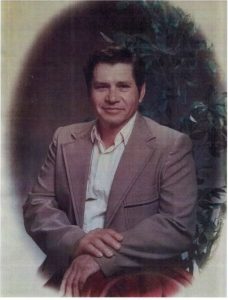 John Paul Cerda, of Pasadena, Texas passed away on November 3, 2016 at the age of 73. He was born on January 26, 1943 in Pleasanton, Texas to the late Dolores (Molina) and Antonio S. Cerda, Jr.
He is survived by his children: Dennis R. Cerda and wife Tawnya, Thresa L. Cerda-Bridges and husband Daniel, Michele L. Cerda and step daughter Pam McCann
Brothers: Ernest and wife Lily, Simon, Antonio III and wife Yolanda, Reynaldo and wife Teresa.
Sisters: Dorothy and husband Toby Herrera, Mary and husband Gene Elliott, Dolores and husband Garrett Bartholomew and Eva Angelina and husband Larry Ramirez.
Grandchildren: Amber, Tessa, Melissa, Devin, Rayden, Abigail and numerous nieces, nephews, great grandchildren and loving family and friends.
He was preceded in death by Janice Agnew Cerda, mother of his children and wife Anita Estes Cerda and granddaughter Jessica Cerda.
At the age of 12 he was saved. He was an avid outdoorsman whom loved fishing and hunting.
The service will begin on Tuesday at 10AM at Crowder Funeral Home located at 1645 East Main Street, League City, Texas 77573. The burial will be held at Forest Park East Cemetery approximately 1PM located at 21620 Gulf Freeway, Webster, Texas 77598.
In lieu of flowers please make Memorial Contributions to Crowder Funeral Home or visit https://www.gofundme.com/cerda-dad