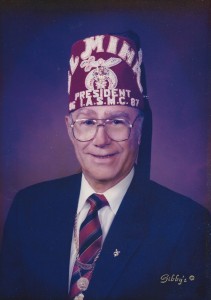 Wayne F. Bray, passed away on April 22, 2016, at the age of 95. He was born on August 13, 1920 to William F. Bray and Lillie Armour-Bray in Lewisville, Arkansas. He was preceded in death by his wife Marie Elmore-Bray; also brothers Charles Bray, Bill Bray and wife Betty, sister Martha Bray Buck and husband Bill. Wayne is survived by his brother Jim Bray and wife Jo, sister Lillie Bray Alexander and husband Don and sister-in-law Louise Bray, numerous nieces and nephews, close friends Betty and Jim Blackburn and Ron and Candy Purl.
Wayne was a member of Lewisville Masonic Lodge #14 in Arkansas, Consistory #1 Galveston, El Mina Shrine Motor Corps, Past President of (TSMPA) Texas Shrine Motor Pool Association, Past President and Past Executive Secretary of (IASMC) International Association of Shrine Motor Corps, Past President of Hitchcock Chamber of Commerce. Wayne loved to tell stories about his and Marie's travels, his accomplishments, the people he knew and his military experiences. He was always willing to assist those in need through his charitable donations. His favorite say was "Lead, follow or get the hell out of the way!"
There will be a visitation on Wednesday, April 27, 2016 from 5:00pm to 7:00 p.m. with a Masonic Service at 7:00 pm in the Chapel of the James Crowder Funeral Home in La Marque, Texas. Graveside services will be 10:00 am Saturday, April 30, 2016 at Wilson Cemetery in Lewisville, Arkansas.
In Lieu of flowers, please make donations to the Shriners Burn Hospital.