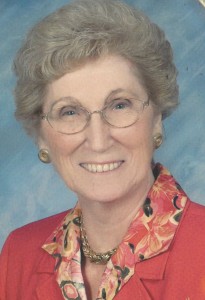 Carolyn Coulter Kueteman, 86, of La Marque, Texas, passed away Monday, February 29, 2016. She was born December 21, 1929, in Lockesburg, Arkansas, and resided in La Marque, Texas.
Carolyn was a woman of great faith who brought optimism and determination to her every endeavor. She was an educator who taught in Dequeen, Ark, and La Marque, Texas, for many years; she actively lived her faith in the Methodist community; she was a missionary-at-heart, contributing her hands and heart to local and global efforts; and she was a fierce fan and supporter of her children, family members, fellow educators, and ADK sisters. Often recognized for her efforts, she preferred to operate in the background, helping others shine.
She is preceded in death by her husband, Herman H Kueteman; her parents, Pearl and Tom Coulter; her sisters, Ida Margaret Coulter Stone and Betty Pearl Henderson; and her brother, Tom S. Coulter. She is survived by her son Edward Wayne "Dutch" Kueteman, daughter Karol Kaye Harris and husband, Michael; sisters Myra Clay (and Wayne) and Cindy Hale (and Larry); and a tribe of nieces and nephews: Laurie, Tom, Beth, Melinda, Adrienne, Susie, Ann, Denise, Camille, Mark, Bryan, Kimberly, Myra Katherine, and Gregory.
Carolyn Kueteman is one who can stand before God and say, "I used everything you gave me." She made a difference.
A Memorial Visitation will be on Thursday, March 3, 2016 from 5pm to 7pm at James Crowder Funeral Home in La Marque, Texas. Interment will be at 10:00am on Saturday, March 5, 2016, at Coulter Memorial Cemetery in Lockesburg, Arkansas.