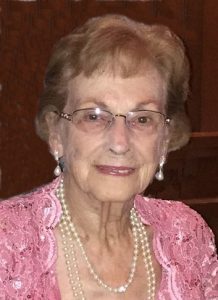 Annie Pearl Treaccar, 102, passed away Friday, September 15, 2023, at her residence. Annie was born October 11, 1920, in Pittsburg, Texas, to John and Lillian Biggs. She was a 1936 graduate of Dickinson High School and worked as a secretary at the Tin Smelter in Texas City prior to her marriage. Annie was devoted to her family. She was a talented artist who embraced all forms of art and was also an avid gardener who loved keeping her backyard beautiful. Annie was a member of the La Marque Garden Club, the Art League, and the Hi-Neighbor Club.
Annie was preceded in death by her parents, her husband Heiman H. Treaccar and brother William Biggs. She is survived by two daughters: Annette Treaccar Hallock (Ken) of The Woodlands, Janet Treaccar of La Marque and two sons: Tom Treaccar (Karen) of Costa Mesa, CA, Ken Treaccar (Janelle) of Lakeway; seven grandchildren: David Henderson, Brent Henderson, Tracey Treaccar, Troy Treaccar, Tricia Treaccar Kelly, Kevin Treaccar, Andrea Treaccar Whitehead; nine great grandchildren; one sister: Marjorie Wilson.
A visitation will be held from 11:00am to 1:00pm, Wednesday, September 20, 2023, at James Crowder Funeral Home, La Marque. A service will follow at 1:00pm at the funeral home with Msgr. James Anderson officiating. Interment will follow at Mount Olivet Catholic Cemetery, Dickinson.