Charles "Charlie" Herbeck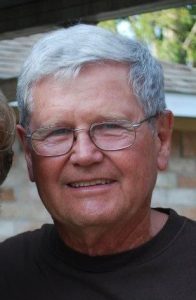 Charles "Charlie" Herbeck passed away Sunday morning July 30, 2023 from complications related to Parkinson's Disease.  He was preceded in death by his mother Orabelle Courtney, father Frank Herbeck, brothers Frankie Herbeck, Billy Herbeck, Jimmy Herbeck & Paul Herbeck, wife Roma Herbeck, son Kelly Herbeck, step sons Todd Morris and Jim Morris.
In the 1960's he worked full time as a laboratory technician at Monsanto Chemical and then drove from Texas City to Houston to attend The University of Houston and then South Texas College of Law, but still found time to spend his weekends with his three boys.
He began his law career with Mabry & Gunn in Texas City in 1971 in what was the original TC hospital.  His law partner, Ed Mabry, who was also the band director at Clear Creek High School when Charlie attended there, remained his partner for the next 40+ years.  He practiced family and corporate law and was one of the first environmental attorneys in Texas.  He was very active in the community through St. Mary's Catholic Church, Optimist Club, Rotary Club, Texas City Chamber of Commerce, Galveston Bay Foundation and other organizations.  His sons fondly remember helping Dad at the Optimist Christmas tree lot and spending the weekends selling raffle tickets for the grand prize car at the St. Mary's Church bazaar.
Charlie had many talents.  When at Monsanto he would bring home finger rings for his boys made out of scrap pipe.  It was a really big deal to little boys.  He, his brothers and father, built Charlie & Roma's first home, he constructed a two-story playhouse with a climbing rope and fireman pole, made some beautiful hand carved boxes, restored cars and taught his sons how to be self-sufficient using our hands and smarts.
In his 60s, he married Linda Morris-Herbeck and soon after, retired from practicing law.  They lived in Rockport, Texas for several years but later moved back to Linda's home in Katy, Texas after he was diagnosed with Parkinson's Disease.  Charlie is survived by his wife Linda, his sister Martha Trammell, his sons; Kirk and wife Marcy and Kris and husband Scott Faber, Douglas Lyn Morris and wife Tina, two grandchildren, Erica Bailey and husband Matt and Matthew Herbeck and wife Kristy, plus numerous great grandchildren.
A graveside service will take place at the Seabrook Cemetery where he will rest near his mother and brothers, on Tuesday August 8, 2023 at 11:00 am.  Seabrook Cemetery is located at 615 Pine Gully Rd., Seabrook, TX 77586.  All are welcome.