In Loving Memory of
Andre' Lavelle Harris
a.k.a. Master Darkside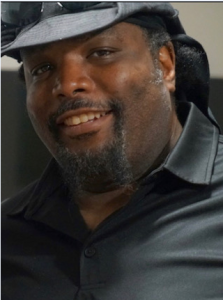 Andre' Lavelle, 52 lived at Pearland Texas where he shared a home with his sister Andria Lyquetta. Andre' Lavelle joins his family members that predeceased him: Richard Vance McCoy (maternal great grandfather), Richard Vance McCoy (maternal grandfather), Rosa Lee (Bell) McCoy (maternal grandmother), Garfield Bell (maternal great grandfather), Sharron Ann (McCoy Harris) Hall (mother), Jerome Lavelle Harris(father), Jannie (Harris) Harris (paternal grandmother), Frank Harris (paternal grandfather), Zykia Clavon (sister), Richard Harmon (brother.)
Andre' Lavelle is survived by: Donald Ray Hall (father), Brenda (Greene) Hall (stepmother), Rosalynde Marie (Harris) Garrison (sister), Andria Lyquetta Harris (sister), Daina Raie Hall (sister), Brianna Celetha Hall (sister), Alexa Camille Greene (sister),  Malik Harris (brother), Teresa Stewart (sister),  Richard James McCoy (uncle), Vance Kermit McCoy (uncle), close friends and brothers at heart: Floyd Pleasant (Scott) Tarvin IV; Jerome Theodore Powell Jr; Ulysses Clemons; and Anton (Tony) Reif and several other cousins, kin and friends.
Andre' Lavelle was fortunate that he did what he loved. He was employed by the International Alliance of Theatrical and Stage Employees Local 51. (I.A.T.S.E.) as a professional stage hand. He was proud to have finally achieved member status. Andre' Lavelle loved that his job allowed him to see people and places the average person did not have access to such as famous bands, professional athletes, close up and back stage of convention centers and local venues, even the top of the Astrodome. Andre' Lavelle was a big "Teddy Bear" with a heart of gold and always had a good conspiracy to share and he will be dearly missed.
Services will begin for Andre' Lavelle at 4:00 p.m. Sunday, October 10, 2021 at Crowder Funeral Home, 2422 East Broadway Street Pearland Texas 77581.
Additional services will be held in Oklahoma (TBA).  Andre' Lavelle will be laid to eternal rest surrounded by his mother and other maternal relatives at Oklahoma, the land of his birth.
The family is asking that in lieu of any floral or monetary donations, that you assist Sandra Harris with her ministry by donating at: MalawiCollective.org/give