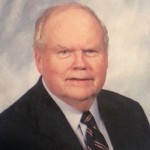 John William O'Neill was born on November 26, 1931 in Jackson, Nebraska to Harry and Kathleen Brannan O'Neill. He passed to his eternal life on August 18, 2014 at his home in League City, Texas. He was preceded in death by his sisters Mary Maurice and Margie Green and brother Tom O'Neill.
He is survived by his wife of 58 years Mary Verhagen O'Neill; daughter Kathleen O'Neill; son Dan O'Neill, M.D. and daughter-in-law Barbara, son Colin O'Neill; daughter Peggy O'Neill Ren and son-in-law Stephen Ren. John was blessed and loved by 13 grandchildren – Conor O'Neill, M.D. (University of Texas Medical School – San Antonio) and Erin O'Neill of Vermont; Rhys O'Neill of Friendswood: Brannan O'Neill -Tulane Medical School; Logan O'Neill – Baylor University; Siobhan O'Neill – N. Arizona State University; Kaelen O'Neill – University of Texas and Owen O'Neill of Friendswood, H.S.; Megan O'Neill and husband Patrick Herndon – recent graduates of University of Chicago Law School; Kelsey O'Neill (Baylor University MBA – Health Administration) and finance Kyle Crawford of Waco – graduates of Baylor University of Waco, TX; Neil Christianson (graduate of the University of Wisconsin) and wife Sonya of Chicago: Pete Christianson – graduate of the University of Texas), Oklahoma City: Maureen Ren, (graduate of The University of Notre Dame) New York City; and Sarah Ren – The University of Notre Dame; and his great grand-son Seamus O'Neill of Vermont. He is also survived by numerous nephews, nieces and in-laws from Nebraska and Wisconsin.
John left the family farm to serve his country as a fighter pilot in the U.S. Air Force, where he flew the F86D interceptor during the Cold War. Following his service, he earned a B.S. from the University of Nebraska in Mechanical Engineering in 1960 and his Masters in Engineering at New Mexico University in 1963 as part of the TDP program at Sandia Laboratory.
In 1963 he began a career of 35 years with NASA at the Johnson Space Center spanning Gemini, Apollo, Skylab, Shuttle and Space Station and several roles from Chief of Flight Planning, through Director, Mission Operations Directorate (1994-1997) and Director, Office of the Director, Space Operations (1996-1998). John was a member of the Senior Executive Service and recipient of several significant awards, including NASA Engineer of the Year, Presidential Medal of Freedom, Meritorious Executive – Presidential Award, and the University of Nebraska Alumni Achievement Award. While at NASA, John completed the Program for Management Development at the Harvard Business School. Following his NASA retirement, John continued with his love for space exploration at United Space Alliance (USA) and as a senior advisor at the University Space Research Associates (USRA). Until age 80, John worked with the Project Management Development Program at NASA. John also was a member of the founding committee of Space Center Houston and served as Chairmen of the Board. In the community John was active in helping youth football as President of the Clear Creek Comets. He faithfully served his Church throughout his life including as a Eucharistic minister and two terms as Chairman of the Pastoral Council as well as other assignments and positions at St. Paul the Apostle Catholic Church in Nassau Bay, Texas.
A visitation will be held on Friday, August 22, 2014 from 6:30 p.m. to 9:00 p.m. with rosary at 6:30 p.m. and a vigil service starting at 7:00 p.m. at St. Paul's. A Funeral Mass celebrating John's life will be held at the Church on Saturday, August 23, 2014 at 10:30 a.m. In lieu of flowers a memorial donation may be made in John's memory to St. Paul's St. Vincent DePaul Society or to the St. Paul Building Fund.