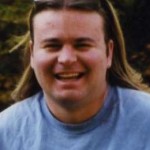 Robert Stephen Smith passed away on July 21, 2014. He was born on September 14, 1971 to George and Melissa Smith. He is survived by his mother Melissa Malin Smith, his sister Wendi Smith Thomason, as well as many other family members. Robert grew up in the Dickinson area. Throughout his life he lived in places such as California, Houston, and Austin. Growing up he was an avid tennis player and was fascinated by all religions. He loved his music more than anything and he was a rock star every day. To all of his loved ones he always will be. Robert was a man who loved everyone he encountered. He lit up a room just like his dad, and will forever be loved by all who knew him.
"Live every moment, laugh every day, love beyond words"- Author unknown.
A celebration of life will be held for Robert on Saturday July 26, 2014 from 2-4 p.m. at Holy Trinity Episcopal Church 4613 Hwy 3 Dickinson, Texas 77539. In lieu of flowers, please make donations to the Dickinson Education Foundation.