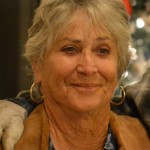 Joe Ann Hartman, 76, passed away on Saturday, June 28, 2014. She was born April 15, 1938 in Fort Smith, AR to Joe Harger and Bertha Ozborn Harger.
Joe Ann was a longtime resident of Dickinson. She enjoyed traveling and seeing the countryside. She will be missed.
Survivors include her daughter, Karan King and husband Lance of League City, and her son Donnie Hartman and wife Beth of Cedar Creek.
She is also survived by her grandchildren, Dustin, Hunter and Dylan.
Visitation will be Wednesday, July 2, 2014 from 5:00 to 8:00 at Crowder Funeral Home in Dickinson. Funeral services will be on Thursday, July 3, 2014 at 10:00 AM at Crowder Funeral Home in Dickinson, burial will follow at Forest Park East Cemetery in Webster.