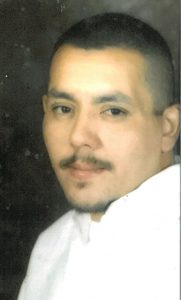 Benjamin Galvan, a resident of Pearland, TX passed away July 13, 2019. Benjamin was born May 1, 1974 in Galveston, TX to Reynaldo and Mary Galvan. Benjamin loved to gamble and listen to music and he attended St. Helen Catholic Church, but nothing made him have more joy than his one grandchild, Jonah.
Benjamin is preceded in death by his father.
Benjamin leaves behind his wife Lisa Galvan; sons: Benjamin Galvan Jr. and Frank Galvan; stepdaughters: Danielle Martinez and Angelina Watson; grandchild, Jonah McMillian; mother, Mary Galvan; sisters: Terri Lopez and Roxanne Walden; brother, Rey Galvan Jr, wife Hope.
There will be a visitation Wednesday, July 17, 2019 from 5-8 p.m. with a rosary at 6 p.m. at Crowder Funeral Home, 2422 E. Broadway St. Pearland, TX 77581. Funeral Service will be held Thursday, July 18, 2019 at 10 a.m. in the chapel of Crowder Funeral Home with burial to follow at South Park Cemetery in Pearland, TX.
Pallbearers will be: Benjamin Galvan Jr., Frank Galvan, Alex Aguilar, Isaac Lopez, Jesse Lopez Jr., and Ricardo Martinez. Honorary Pallbearers: Felix Martinez and Kendrell Owens.