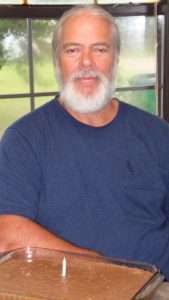 Allen "Al" Wayne Wallace, 63, of Pearland, TX passed away June 21, 2018 at his home surrounded by his family.  Mr. Wallace was born July 20, 1954 in Houston, TX to Ralph and Dorothy Wallace. Al has lived in Pearland for 32years.
Mr. Wallace is preceded in death by his father Ralph Wallace.
Allen is survived by Mrs. Debee Wallace; mother, Dorothy Connelly; sons: Ralph N. Wallace and Hank A. Wallace; sister, Rosemary A. Shields; brothers: George A. Bally, wife Debbie and Larry D. Wallace, wife Gwen; along with numerous nieces, nephews and cousins.

The family will receive friends at 6:00 p.m. Monday, June 25, 2018 at Crowder Funeral Home, 2422 East Broadway Street Pearland, TX 77581.  There will be a Memorial Service beginning at 7:00 p.m. with Ray Jensen officiating.
Memorials may be made in his name to: American Diabetes Association at https://donations.diabetes.org/site/Donation2?df_id=18806&18806.donation=form1

Allen enjoyed fishing, especially off-shore in the Gulf of Mexico as well as elk and deer hunting in Wyoming.  He loved to share the spoils of his adventures with his family and friends. Another favorite pastime was hunting for interesting coins in pocket change and in boxes of coins he would periodically buy from the bank.  If you had a coin in your pocket, he wanted to check it out before you spent it to make sure it wasn't one he wanted. Allen was an excellent handy man and built many things out of wood and metal but the best thing he built was memories with his family during the years through various fun-filled road trips and vacations.  

Allen had various occupations through the years, from hanging overhead garage doors, to rough-necking on oil rigs, to driving commercial vehicles.  He was especially talented at rock masonry, which is something he learned to do in his late 20s while working with his Pappy. Samples of his artistry can be found all over east Texas, where he was living at the time, as well as on and in the house he built for his family here in Pearland.  He was especially proud of this home and property and was very hands on while it was being built.

Most notable of his occupations is the construction company he founded in 1985 — Wallace Concrete Sawing.  He built it from the ground up and provided well for his family for three decades. In 2015 he retired, entrusting his sons with the company.  Allen passed knowing the business he founded still provides for his family in his absence.

God's blessings sometimes require people on earth to carry them out, and Allen did.