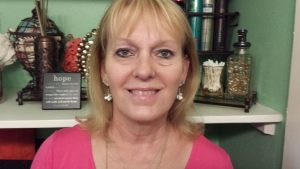 Cynthia Marie Tisdale, 63, of Dickinson, TX passed away on May 18, 2018, in Santa Fe, TX.  Mrs. Tisdale was born in Thibodaux, LA on May 25, 1954, to Levy and Elsie Olinde.  Cynthia married her loving husband William Recie Tisdale, Sr. at the age of 17 and they have been married for 46 years.  She made it a point to stay at home and raise her children while her husband worked and ministered at a Baptist Church.  Mrs. Tisdale is a member of First Baptist Church in Webster.  As her children got older she decided to enter the job market where she worked different jobs throughout her life until her husband started his own business. A few years ago, William became ill and has recently required full-time assistance so Mrs. Tisdale also filled that role. She has cared for her husband every day of their lives, not to mention keeping up with a bunch of grandchildren. During the past year, she even found time to attend physical therapy most weeks with her granddaughter following a terrible accident. Her support, love, and encouragement are part of the reason her granddaughter is walking again. This past year Cynthia enjoyed helping others so much she decided to go work as a substitute teacher at Santa Fe High School working with special needs kids. She has three grandchildren that attend Santa Fe ISD and one grandchild that graduated from there and a daughter-in-law Jennifer that also works for Santa Fe ISD.  As such, the community of Santa Fe is a large part of her family's lives. She worked at the school not out of necessity but for the love of teaching and helping others. To know Cynthia, was to know a person who lived to help those in need. Our Family loved our mother very much. "Grammy", you will be missed.  There are no words to explain how saddened my entire family is for all those involved. Our prayers and thoughts are with everyone affected.
Mrs. Tisdale is preceded in death by her parents and her brother Robert Lee Olinde.
Cynthia is survived by her Husband; daughter Autumn Tisdale and her husband Mathew; two sons William Recie Tisdale, Jr. and his wife Jennifer and Joseph Tisdale and his wife Alyssa; stepdaughter Shannon McCoy and her husband Jon; brother Levy Olinde, Jr. and his wife Rebecca; eleven grandchildren Kayla Tisdale, Bailey Tisdale, Saylor Tisdale, Fynn Tisdale, Reese Tisdale, Abigail Tisdale, Allyson Tisdale, Myles Tisdale, Shelby McCoy, Mallory McCoy and Kiley McCoy.
There will be a visitation for family and friends from 5:00 p.m. to 8:00 p.m. on Thursday, May 24, 2018, at Bay Area Church 4800 W. Main St. League City, TX 77573. A Celebration of life will take place on her Birthday at 11:00 a.m. on Friday, May 25, 2018, at Bay Area Church with Pastor Brian Haynes officiating.  Burial will Follow at Mt. Olivet Cemetery in Dickinson, TX.  Pallbearers will be Jon McCoy, Matthew Tisdale, Dwight Baker, Jim Muller, Stephen Tisdale and Josh Blankenship.  In Lieu of flowers, memorials may be sent to Santa Fe Texas Education Foundation at P.O. Box 747 Santa Fe, TX 77517.