Elizabeth "Lily" Webb (née Sillery)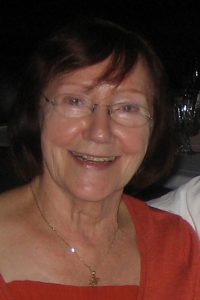 Elizabeth "Lily" Webb (née Sillery) died peacefully in her home surrounded by her family on May 12, 2018 in Pearland, Texas. She had been diagnosed with Alzheimer's Disease in 2011.
Lily was born in Wicklow, Ireland to Catherine and John Sillery. Life in Wicklow was wonderful but, as with so many young Irish, she moved to London in the 50's where she met her future husband, who was on a temporary assignment from the U.S. Navy.
Lily is survived by her husband of 55 years, David; her beloved children, Kevin and his wife Kimberly of Valley Spring, Texas, and Kearon of Galveston, Texas; brother James Sillery of Sutton, England; sisters Naula Bryne of Rathnew, Ireland, Bridget Courtenay and her husband Richard of Dublin, Ireland, and sister-in-law Lucy Sillery of Wicklow, Ireland; and numerous nieces and nephews throughout Ireland, England, and America.
She is preceded in death by her parents; her beautiful daughter Catherine "Katy" Rider of Houston, Texas; her brothers Lawrence of Greystones, Ireland, Peter "Pierre" and John of Wicklow, Ireland, and her sisters Mary Boyle of Hounslow, England, Kathleen Knight of Frimley, England and Alice Birch of London, England
Lily always had a great love for children and, in 1962, she came to America to work as a nanny for a family near Chicago and, coincidentally, David worked in Waukegan in the far north of Illinois. Lily and David got together and, on April 20, 1963, they were married.  Over the next four years, they welcomed their three wonderful children into their home.  Her children remember her as a kind, gentle and very loving mother.
In addition to being a wonderful wife and mother, Lily was a gracious hostess. Because of her innate talent and technical schooling in Ireland, Lily was an incredible cook, seamstress, decorator, and gardener who loved making friends and giving parties – birthday parties, Christmas parties, and especially St. Patrick's Day parties. She was a generous and friendly soul who loved people. She was an active and dedicated member of the Catholic Church, a member and past president of the Irish club, EIRE, and often volunteered as a little league baseball and football team mother.
A visitation will be from 5-8pm with a vigil to begin at 6pm on Thursday, May 17, 2018 at Crowder Funeral Home, 2422 East Broadway Street, Pearland, Texas 77581. Mass will be held Friday, May 18, 2018 at 11am at St. Luke the Evangelist Catholic Church, 11011 Hall Road, Houston, Texas, 77089, followed by her burial at Forest Lawn Cemetery, 8701 Almeda Genoa, Houston, Texas 77075. A reception to follow at BellaVita Clubhouse, 1548 North Riviera Circle, Pearland, Texas. All are welcome to attend and celebrate Lily's life.
In lieu of flowers, please send donations to the Alzheimer's Association.  Condolences can be sent to www.CrowderFuneralHome.com. The family would like to thank Lily's caregiver Roselind Taylor for her care and dedication and Memorial Hermann Hospice for their effort and support.