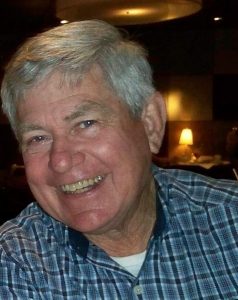 Gerald Lynn Smith, 74, thirty-eight-year resident of Texas City, Texas and formerly of LaMarque, Texas passed from this life, on Thursday morning.
Gerald was born April 17, 1943, to proud parents, Clyde & Katherine Smith, Sr. in Goose Creek, Texas. He was a member of First United Methodist Church. Gerald retired from Weston Solutions in Houston, Texas and was formerly Co-Owner of Mainland Construction Co, in Texas City, Texas
He is preceded in death by his parents, and brother Clyde Smith, Jr.
He leaves to cherish his memory, three daughters, Karen Smith, Kristen Smith & Kelly Smith Keefe; a brother, Robert "Bob" Smith and wife Phyllis; sister-in-law, Armeda Smith; three grandchildren, Eric Matthieu Bedard, Jr., Madeline Anne Keefe, and Tyler Gerald Jones; two nieces, DeAnna Greer and husband Todd, and Stacey Smith; one nephew, Shannon Smith and wife Ladena as well as numerous great nieces and nephews.
In his honor a visitation will be held Sunday, February 25, 2018, from 5:00 – 7:00 pm at Crowder Funeral Home Chapel, in Dickinson, Texas followed by a funeral service at 7:00 pm. A graveside service will follow on Monday, February 26, 2018, at 9:00 a.m. at Hayes Grace Memorial Park Cemetery, Hitchcock, Texas.
In lieu of flowers, donations may be made to the Galveston County Fair & Rodeo for the Clyde Smith Memorial Scholarship Fund or The American Cancer Society.