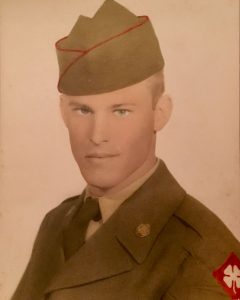 Lloyd Dallas Pate, 84, of Bacliff, Texas, passed away June 17, 2017, in Houston, Texas.  Lloyd was born November 13, 1932, to James and Murl Addella Pate in Seabrook, Texas.  He proudly served his country in the U S Army during the Korean Conflict. He was a Corporal and served at White Sands Missile Range. Lloyd worked for many years as a welder and fitter.  Lloyd was preceded in death by his parents and great-grandson Alex.
Lloyd is survived by his loving wife Alice M. Pate; daughters, Rose Marie Huckaby and Trudy Dale Hutchison; sons Lloyd Dallas Pate, Jr., and Dennis Wayne Pate; sister, Louise Cagle; grandchildren, Kristy, Katrina, Angela, Patrick, and Lloyd; great-grandchildren, Abby, Samuel, and Belle.
A visitation in his honor will be held Tuesday, June 27, 2017, from 6:00 – 8:00 pm, Crowder Funeral Home Chapel, Dickinson, Texas.  A graveside will be held, 1: 15 pm, Wednesday, June 28, 2017, at the Houston National Cemetery, Houston, Texas.