Charles Ralph Hudgins, Jr.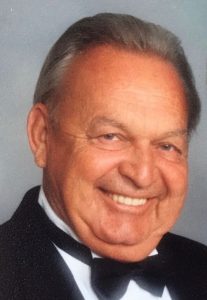 Charles Ralph Hudgins, Jr., passed away June 8, 2017. He was born July 11, 1936, in Sweetwater, Texas. He attended TCU and was in the U.S. Marine Corp. Charles met and married his wife Gail in 1970 and would celebrate 47 years this July. Charles was a member of CoastPointe Church in Dickinson and former member of Clearpoint Church in Pasadena.
He moved to Houston in 1961 and worked many years in the Pasadena, Deer Park area as a union pipefitter, plumber, plumbing inspector, and newspaper man. At the time of his death, he was a Plumbers Local Union 68 retiree. After his retirement, he moved to the Dickinson/Alvin area where he loved to spend time with his family, especially his grandchildren and great-grandchildren. When he could no longer play his favorite sport of golf, he spent many hours watching the History Channel and listening to the Gaithers.
He was preceded in death by his mother, Opal Mitchem; father and step-mother, Charles Ralph and Oma Hudgins; step-son Whitney Parker; granddaughter, Chase Parker, and sister Ann Walton.
He is survived by his wife Gail Hudgins; daughter, Kristi LaBroski and husband Jeffrey; step-daughter, Rhonda Burgess and husband Ray; brother, Wayland Hudgins and wife Sue; grandchildren, Lacy Stole and husband Mark, Samantha Yarberry and husband Cameron, Hailey Hanson and fiancé Travis, Tyler LaBroski, and Justin Riojas; great-grandchildren, Emily Stole and Mackenzie Yarberry; and numerous nieces and nephews.
Visitation will be held at 6:00 p.m. on Wednesday, June 14, 2017, at Crowder Funeral Home in Dickinson, Texas with a Memorial Service beginning at 7:00 p.m.