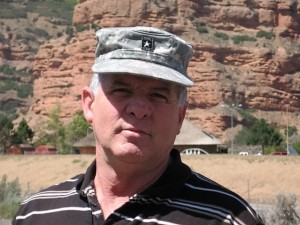 Edward "Ed" Earl Kemp passed away peacefully of lung cancer on March 23, 2016 in Houston, TX; Ed was comforted by his wife at the time of his passing. Ed was born on February 19, 1955 in Natchez, Mississippi to Harold Kemp and Winnie Ross Kemp. He married Kathleen Kemp, the love of his life, on September 26, 1974. Ed was a retired U.S. Army veteran, proudly serving his country for 24 years. Ed was well known for his strong work ethic, deep love and devotion to his family, friends, God and country. Ed had a smile that was contagious and a great sense of humor.
Ed is preceded in death by his father, Harold Kemp and step-father S.J. Mann. Left to cherish his memory are his wife of 41 years, Kathleen Kemp; his daughters, Sonia Rectenwald and Terra Hamilton; mother, Winnie Mann; sisters Glenda Bruce, Brenda Pettway, Kaye Weeks, Renee Harmon, Doll LaSalle, Stephanie Arnold; brothers, Stan Kemp and Edgar Kemp; grandchildren, Meagan Rectenwald, Spencer Kemp, Katelyn Rectenwald, Shawnee Rectenwald, Tony Hamilton; and great-grandson, Gabriel Mendoza. He is also survived by numerous nieces and nephews.
A visitation will be held on Monday, March 28, 2016 from 6pm-8pm at Crowder Funeral Home, 111 East Medical Center Blvd, Webster, TX 77598 followed by a graveside service and interment at 1:45pm on Tuesday, March 29, 2016 at the Houston National Cemetery, 10410 Veterans Memorial Drive, Houston, TX 77038.
The family requests that in lieu of flowers a donation in the name of Ed Kemp be made to MD Anderson, St. Jude Children's Research Hospital, or Wounded Warriors Project.