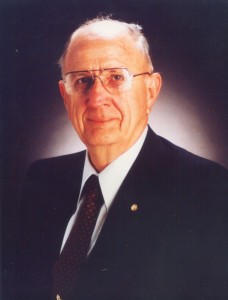 ­­Owen Glenn Morris, age 87, of Houston, TX, born February 3, 1927 in Shawnee, Oklahoma to Vestus and Myrtle (Lindsey) Morris, went home to be with the Lord December 29, 2014. Owen Glenn was an avid model airplane builder from a young age. He attended the University of Oklahoma completing his masters in Aeronautical Engineering in 1948. During college he entered the Navy Officer Training program and served briefly in the Pacific Theater.
Owen Glenn was hired by NACA in Langley, Virginia to design and operate a supersonic wind tunnel.  In 1958, NACA became NASA and Owen Glenn joined the Space Task Group, focusing on the Apollo Program. Owen Glenn was a pioneer throughout his life using his positive "can do, will do" attitude to work with others on many programs and causes bringing dreams to reality.  Some of these include: planting and building the Yorkminister Presbyterian Church in Yorktown, Virginia, working with four men to build five houses for their families, leading the team that conceptualized and developed the Lunar Module, planting and growing Clear Lake Presbyterian Church, start-up of the Space Center Model Airplane Club and Space Center Rotary, leader in the Rotary Polio-End Polio Now world wide vaccination program, among other things.
Owen Glenn always held the hard line assuring quality and safety of a space crew and payload. He served as consultant of the Orion Project until March 2014. He was known for his ready smile, easy laugh and care and comfort of many.  His memory lives on through the legacy of the family and community he loved and served.
Owen Glenn is preceded in death by his parents, his first wife, Moree Glover Morris, and his sister Olivia Neal.
Those left to continue his legacy include: wife, Joyce Gast Morris, daughters Janine Inez Morris and Kerry Comeaux, of Houston; Debbie Moree Shafer and David Shafer of Whitehouse; and grandchildren Kyle Comeaux and Kayla Comeaux of Friendswood; and Drew Shafer and wife Kristine Shafer, Paige Roberts and her husband Justin Roberts, and Phillip Shafer all of Austin, Texas.  In addition, Owen Glenn has three great grandchildren, Dillon Shafer, Katherine Shafer, and Pippa Roberts and nieces Jo Ellen Mason Dale and Ashley Mason.
The Gast family includes children Mark Gast, Stavanger, Norway; Judith Gast and her husband Bob Causton, Toronto, Canada; and David Gast, Camas, Washington. In addition, Joyce's grandchildren are Mark Gast of Baltimore, Maryland, and Paul Christian, Stavanger, Norway; Noelle Causton and Serena Causton of Toronto, Canada; and Matthias Gast and Janelle Gast of  Camas, Washington.
Memorial service will be held at Clear Lake Presbyterian Church (CLPC), Saturday, January 3, 2015 at 2:00 pm.
In lieu of flowers, please donate to the missions of CLPC or projects of Space Center Rotary-End Polio Now in memory of Owen Glenn Morris.
Messages and memories can be shared on Owen Glenn Morris facebook page or through Crowder Funeral Home website.