Gordyn Samuel "Buddy" Kirschner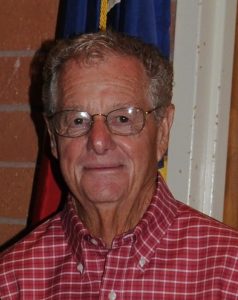 Gordyn Samuel "Buddy" Kirschner, 86, of Santa Fe, Texas, passed away Monday, May 15, 2017.
Buddy was born October 8, 1930, in Galveston, Texas.  He graduated from Ball High School, Galveston, Texas in 1949, and pitched for two farm clubs associated with the Chicago Cubs, the Sioux Falls Canaries and the Carthage Cubs, before becoming a pipe fitter at Monsanto.  He married his high school sweetheart, Pat Kirschner, in 1974, and remained devoted to her until her death in 2006.
In addition to working as a pipefitter, Buddy also enjoyed playing golf and officiating high school football games.  He officiated many Ball High School games during the years he spent as an active participant of a well respected officiate team.
In his retirement, he became an expert at growing roses.  People often stopped in front of his house to take pictures of his spectacular flowers and ask him for tips on how to produce such beautiful rose gardens.
He was also a devoted father and grandfather. He frequently opened his home to his various friends, children, grandchildren, great-grandchildren, and great-great-grandchildren as host to various birthday parties and fishing expeditions.  His open-hearted hospitality and well-stocked pond provided many people with hours of entertainment.
He is preceded in death by his wife, Patricia G. Kirschner, son Gordyn Samuel "Bubba" Kirschner Jr., and James L. Gibbins, son-in-law.
Survivors include daughters Trish Gibbins and Valerie Simmons; sons Gary Wayne Kirschner and wife Sandy; Mike Martin and wife Gage; grandchildren: Stephanie Klein and family, Courtney Best, Gordyn Wayne Kirschner and family, Jennifer Kirschner, Zettie Kirschner, Zachary Kirschner, Blair Martin, Walton-Gray Martin, Daniel James Martin, Laura Simmons; great-grandchildren: Matthew Klein, Andrew Klein, Lindsey Cole, Macey Evans, Taylor McLin, Madison Mills, Brittany Kirschner, and Sebastian Kirschner; and great-great grandchild Hayes James Cole.
To all who knew him, Buddy represented a generosity of heart and spirit to which we all aspire and for which we are all forever grateful.
A Memorial Service will be held at 10:00 a.m. on Friday, May 19, 2017, at Crowder Funeral Home in Dickinson, Texas.