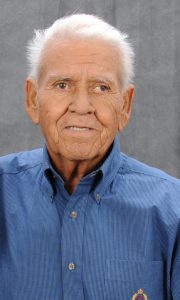 Reynaldo Galvan Sr. was born October 30, 1948 in Post, TX and passed away December 2, 2017 at the age of 69. Reynaldo was a resident of Pearland, TX for over fifty years and has worked for Whitt Septic Systems in Alvin, TX for forty-two years.
Reynaldo is preceded in death by his parents Eugene and Olivia Galvan; sisters, Alice Sanchez and Maria Martinez.
Reynaldo leaves behind his wife of fifty years, Mary M. Galvan; daughters: Maria Lopez and Roxanne Murillo, husband Francisco; sons: Reynaldo Galvan Jr., wife Esperanza and Benjamin Galvan, wife Lisa; sister, Frances Aguilar; brothers: Gene Galvan, wife Betsy, Gilbert Galvan and Julian Galvan, wife Thomasa; grandchildren: Victoria Lopez, Isaac Lopez, Jesse Lopez Jr., Frank Galvan, Benjamin Galvan Jr., Angelina Watson, Danielle Martinez Victor Galvan, Vivian Galvan, Dylan Corona, Houston Corona, Skylynn Corona.
There will be a visitation Wednesday, December 6, 2017 from 5-8 pm at Crowder Funeral Home in Pearland. Funeral service will be held Thursday, December 7, 2017 beginning at 11:30am in the chapel of Crowder Funeral Home. Burial to follow at South Park Cemetery.