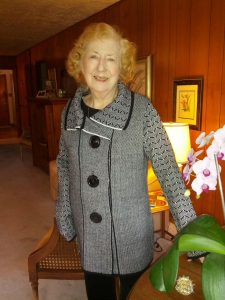 Mrs. Marjorie May Rogers, 96, a seventy-year resident of Houston, TX passed away peacefully November 29, 2017. Mrs. Rogers was born December 17, 1920 in Topeka, Kansas. Marjorie's motherly instincts and cookie baking were a source of comfort to an entire neighborhood of children. She was a wonderful gourmet cook and enjoyed her time in the garden.  Marjorie was also an accomplished artist with oils and water colors. Marjorie worked alongside her husband Gary as an independent insurance agent at Gary Roger's Insurance Agency in Houston, TX.
She reunites with her husband of fifty-seven years, Gary Rogers; sister, Helen VanRell; grandchild, Heather Shannon Edwards, and great-grandchild Gaius Lawrence Ballman,
Mrs. Rogers leaves behind her daughter, Catherine Wampler; sons: Gary Allen Rogers, wife Jill Rogers and Glenn Arthur Rogers, wife Kay Rogers; grandchildren: Scott Rogers, Elizabeth Wampler, Elissa Ballman, husband Aaron Ballman and grandson Lawrence Wampler, and great granddaughter Gwendolyn Edwards
Memorial service will be held on Sunday, December 17, 2017 at 11am in the chapel of Crowder Funeral Home, 2422 Broadway, Pearland, TX 7581.
If you wish to make a donation instead of flowers, please send memorial donations in the name of Marjorie Rogers name to: Homeless and Orphaned Pets Endeavor (HOPE) www.homelesspets.net. 713-622-HOPE.