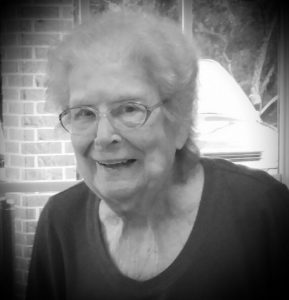 Barbara Nell Chambless (89), of La Marque, Texas, passed away on Monday, May 15, 2017. She was born in Sicily Island, Louisiana on October 10, 1927 to Allie and John Passman. Formerly of Texas City, Barbara was a longtime Manager for Multiple Apartment Complexes in Houston. She enjoyed cooking, sewing, and gardening.
Barbara is preceded in death by her husband Fred F. Chambless, her mother and father, her sister Mildred Krause and brother John Passman.
She is survived by her daughter; Dianne McDowell and husband Rocky of Spring, Texas, son Michael Chambless and wife Julia of Texas City, 12 grandchildren and 24 great-grandchildren.
Barbara was a pancreas cancer survivor of twenty years giving God all the Glory.
The family would like to thank the Bayou Pines Care Center and The Cornerstone Staff for the excellent care given to their mother.
A Memorial Service will begin at 2:00pm on Sunday, May 21, 2017 at the James Crowder Funeral Home in La Marque, Texas with Pastor David Jaramillo officiating.