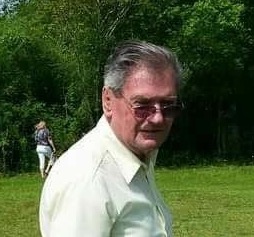 Doyle Lee Ray, 83, of Texas City, TX, passed away surrounded by his family on April 12, 2017.  Doyle was born June 17, 1933, to Roy and Frances Ray in Philadelphia, MS.  He was a carpenter for many years in the Galveston area. Doyle was preceded in death by his parents, a sister May Pontikos, and brothers, Laverne Ray, J.W. Ray, A.P. Ray, Ivan Ray, Paul Ray, and James Ray.
Doyle is survived by his loving wife of 64 years Fannie Ray; daughters Peggy Arevalo and Judy Holmes and husband Jimmy; five grandchildren; seventeen great grandchildren; seven great great grandchildren; and numerous nieces, nephews, and friends.
A visitation in his honor will be held 5:00 – 7:00 pm, Wednesday, April 19, 2017 with a Celebration of Life Service, 10:00 am Thursday, April 20, 2017 both at Crowder Funeral Home Chapel, Dickinson, Texas.  A reception will follow the service at the Fraternal Order of Eagles, 6101 FM 6465, Santa Fe, Texas.