Marisela Montes "Mona" Martinez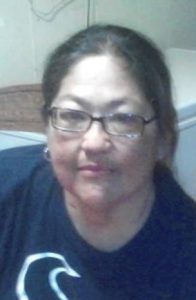 Marisela Montes "Mona" Martinez, 50, passed away April 10, 2017. She was born February 2, 1967, in San Benito, Texas to parents, Cayetano F. Montes and Esperanza Bautista Montes. She was a lifetime resident of Dickinson, Texas and a member of Shrine of the True Cross Catholic Church in Dickinson, Texas.
She was preceded in death by her father, Cayetano Montes, and sister, Magda Iris Montes.
She is survived by her husband Miguel A. Martinez; mother, Esperanza Montes; sisters, Melissa Montes Rocha, and Marina Montes; brothers, Mario Montez, Marcus Ambriz, Michael Montes, and Matthew Montes;
Visitation will be held from 5 p.m.-8:00 p.m. with a Rosary beginning at 7:00 p.m. Monday, April 17, 2017 at Crowder Funeral Home in Dickinson, Texas. Funeral services will be held at 10:00 a.m. Tuesday, April 18, 2017 at Crowder Funeral Home Chapel. Interment will follow at Mt. Olivet Cemetery in Dickinson.
Serving as pallbearers as Matthew Montes, Cristian Reyes, Michael Montes Jr., Gabriel Castillo, Reuben Juarez Jr., and Reuben Juarez Sr., and Jared Mickens. Honorary pallbearers are Martin Montes, Rico Juarez, Matthew Duran, and Mason Duran.